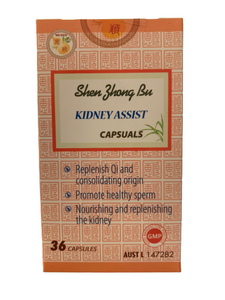 Wai Shun Kidney Assist (Shen Zhong Bu)
$1600

$16.00
Tax included.
Shipping
calculated at checkout.
---
---
THIS PRODUCT MAY NOT BE SUITABLE FOR YOU. ALWAYS READ THE LABEL, WARNINGS AND INSTRUCTIONS FOR USE BEFORE PURCHASING. PLEASE CONSULT A DOCTOR OR SEEK PROFESSIONAL ADVICE BEFORE TAKING ANY NEW SUPPLEMENTS OR MEDICATIONS.
General Information:
36 Capsules
Replenish Qi and consolidating origin, promote healthy sperm, strengthen Yang and nourishing and replenishing the kidney. For kidney deficiency, general fatigue and when you are feeling tired and weary.
Directions for use:
Take 3 capsules each time, two times a day.
Ingredients:
Epimedium brevicomu herb powder 70mg
Eurylae ferox seed powder 80mg
Curculigo orchioides rhizome powder 50mg
Astragalus complanatus seed powder 50mg
Panax ginseng root powder 40mg
Rehmannia glutinosa root powder 50mg
Zizyphus jujuba seed powder 60mg
Rosa laevigata fruit powder 50mg
Cynomorium songaricum stem powder 50mg
---
We Also Recommend