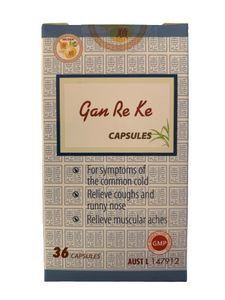 Wai Shun Gan Re Ke
$1300

$13.00
Tax included.
Shipping
calculated at checkout.
---
---
THIS PRODUCT MAY NOT BE SUITABLE FOR YOU. ALWAYS READ THE LABEL, WARNINGS AND INSTRUCTIONS FOR USE BEFORE PURCHASING. PLEASE CONSULT A DOCTOR OR SEEK PROFESSIONAL ADVICE BEFORE TAKING ANY NEW SUPPLEMENTS OR MEDICATIONS.
General Information:
36 Capsules
Traditionally used in Chinese medicine to help reduce occurrence of symptoms of headaches. To relieve nasal congestion, reduce symptoms of common cold, cough, runny nose and symptoms of sore throat.
Directions for use:
Take 3-4 capsules each time, 2 times a day.
Ingredients:
Saposhnikovia divaricata root powder 100mg
Schizonepeta tenuifolia herb powder 50mg
Trichosanthes kirilowii stem bark powder 50mg
Trichosanthes kirillowi root powder 50mg
Fritillaria thunbergii bulb powder 40mg
Platycodon grandiflorus root powder 50mg
Scrophularia ningpoensis root powder 50mg
Iris domestica rhizome powder 40mg
Houttuynia cordata herb powder 30mg
Glycyrrhiza uralensis root and rhizome powder 40mg
---
We Also Recommend