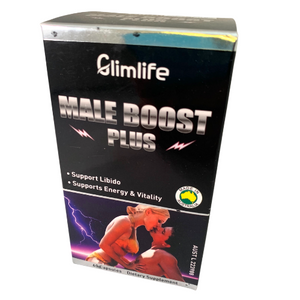 Male Boost Plus
$3900

$39.00
Tax included.
Shipping
calculated at checkout.
---
---
THIS PRODUCT MAY NOT BE SUITABLE FOR YOU. ALWAYS READ THE LABEL, WARNINGS AND INSTRUCTIONS FOR USE BEFORE PURCHASING. PLEASE CONSULT A DOCTOR OR SEEK PROFESSIONAL ADVICE BEFORE TAKING ANY NEW SUPPLEMENTS OR MEDICATIONS.
General Information:
60 capsules
Male Boost Plus is specifically formulated to support normal male sexual function, aid sexual performance and support normal male erectile function and libido in healthy men. It may help to heighten normal sexual desires, supports energy and vitality and helps perform in peak condition. It is a herbal and nutritional support designed to support and enhance masculine needs, balances and supports normal male physiology and function and may be beneficial in satisfying physiological requirements of the male body.
Indications:
Male Boost Plus supports the health and function of the male reproductive system, helping to maintain normal sperm formation, maturation and motility in healthy men, and support prostate health.
Supports healthy immune function, helps to maintain the health of the liver, and aids in the improvement of general wellbeing in men.
Directions:
For health maintain: Take 1 capsule 2 times daily
For peak performance: Take 2 capsules 1/2 hour to 1 hour before activity, with warm water.
Ingredients:
Each capsule contains:
Panax ginseng (Korean ginseng) root 1.35g,
Epimedium sagittatum (Horny goat weed) herb top 50mg,
Zinc citrate dihydrate 31.2mg (Equiv to zinc 10mg),
Tribulus terrestris fruit 18.75g,
Turnera diffusa (Damiana) leaf 50mg,
Selenomethionine 125mcg (Equiv to selenium 50mcg)
---
We Also Recommend