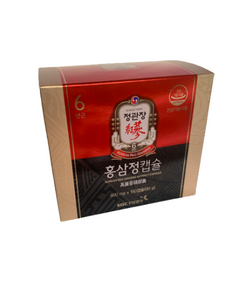 Korean Red Ginseng Extract Capsule
$11300

$113.00
Tax included.
Shipping
calculated at checkout.
---
---
THIS PRODUCT MAY NOT BE SUITABLE FOR YOU. ALWAYS READ THE LABEL, WARNINGS AND INSTRUCTIONS FOR USE BEFORE PURCHASING. PLEASE CONSULT A DOCTOR OR SEEK PROFESSIONAL ADVICE BEFORE TAKING ANY NEW SUPPLEMENTS OR MEDICATIONS.
General Information:
600mg x 150 capsules (90g)
Easy to take gel capsules, with a friendly flavour, encapsulate red ginseng extract suspended in healthy grape seed oil, lecithin and wheat germ oil. Popular with both women and men for their functional convenience.
Efficacy of Red Ginseng - Proven by the Korean Food and Drug Administration:
1. Improves immunity
Red ginseng may help improve immunity, the ability to protect the body against external pathogens such as cold viruses.
2. Recovery from fatigue
Red ginseng may help those who easily feel tired, inactive and weak recover.
3. Improves blood circulation by repressing platelet aggregation
4. Improves memory
Red ginseng may help improve memory by protecting nerve cells and vitalising the nervous system.
5. Anti-oxidation
Red ginseng may help anti-oxidation by minimising the generation of excess active oxygen that attacks cells.
Directions:
2 capsules at a time, 3 times per day
Ingredients:
Korean Red Ginseng Extract
---
We Also Recommend