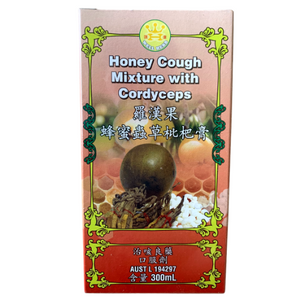 Honey Cough Mixture with Cordeyceps
$1700

$17.00
Tax included.
Shipping
calculated at checkout.
---
---
THIS PRODUCT MAY NOT BE SUITABLE FOR YOU. ALWAYS READ THE LABEL, WARNINGS AND INSTRUCTIONS FOR USE BEFORE PURCHASING. PLEASE CONSULT A DOCTOR OR SEEK PROFESSIONAL ADVICE BEFORE TAKING ANY NEW SUPPLEMENTS OR MEDICATIONS.
General Information:
300ml
A Traditional Chinese Medicine. For reduction of cough, relieve hoarseness of voice, decrease throat irritation and loosen chest phlegm.
Directions of Use:
Adults: 20ml, 3 times daily
Children: 10ml, 3 times daily
Ingredients:
Each 20ml dose contains extracts equivalent to dry:
Cordyceps sinensis (hyphae) 166mg
Siratia grosvenorii (fruit) 166mg
Fritillaria cirrhosa (bulb) 166mg
Eriobotrya japonica (leaf) 133mg
Adenophora tetraphylla (root) 67mg
Poria cocos (fruiting body) 33mg
Citrus reticulata (fruit pericarp) 30mg
Platycodon grandiflorum (root) 100mg
Pinellia ternata (rhizome) 67mg
Schizandra chinensis (fruit) 33mg
Trichosanthes kirilowii (seed) 67mg
Polygala sibirica (root) 67mg
Stemona sessilifolia (root) 67mg
Zingiber officinale (rhizome) 133mg
Glycyrrhiza uralensis (root and rhizome) 133mg
Mentha haplocalyx (leaf) 100mg
Honey 1000mg
---
We Also Recommend