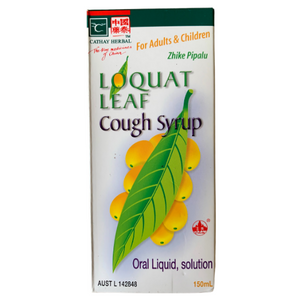 Cathay Herbal Loquat Leaf Cough Syrup
$1200

$12.00
Tax included.
Shipping
calculated at checkout.
---
---
THIS PRODUCT MAY NOT BE SUITABLE FOR YOU. ALWAYS READ THE LABEL, WARNINGS AND INSTRUCTIONS FOR USE BEFORE PURCHASING. PLEASE CONSULT A DOCTOR OR SEEK PROFESSIONAL ADVICE BEFORE TAKING ANY NEW SUPPLEMENTS OR MEDICATIONS.
General Information:
150ml
This Traditional Chinese Medicine has been used traditionally to clear the heat and eliminate the phlegm, helps the relief of coughs.
Directions for use:
Not to be used in children under 2 years of age without medical advice.
Take 3 times daily or as directed by your health care professional.
2-6 years: 5ml
7-11 years: 10ml
Adults and children over 12 year: 20ml
Ingredients:
Each 20ml does contains extracts equivalent to dry:
Eriobotrya japonica (leaf) 2.62g
Stemona sessilifolia (root) 460mg
Peucedanum praeruptorum (root & rhiz) 280mg
Morus alba (root bark) 180mg
Platycodon grandiflorus (root) 180mg
Also contains essential oils of:
Prunus armeniaca (seed) 3.2mg
Myrica cerifera (fruit) 2.4mg
Contains non-active ingredients:
Sucrose and benzoates
---
We Also Recommend