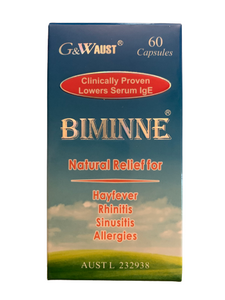 BIMINNE
$3500

$35.00
Tax included.
Shipping
calculated at checkout.
---
---
THIS PRODUCT MAY NOT BE SUITABLE FOR YOU. ALWAYS READ THE LABEL, WARNINGS AND INSTRUCTIONS FOR USE BEFORE PURCHASING. PLEASE CONSULT A DOCTOR OR SEEK PROFESSIONAL ADVICE BEFORE TAKING ANY NEW SUPPLEMENTS OR MEDICATIONS.
General Information:
60 capsules
BIMINNE is clinically proven, third generation natural herbal medication for allergy relief, and was researched & developed in Australia. The scientific evidence has shown that Biminne has anti-inflammatory and allergy relieving properties, and helps maintain healthy immune function and lower serum lgE, therefore relieves the symptoms of hay fever, rhinitis, sinusitis and allergies.
Clinically proven in Australia to be effective
Newly upgraded formula
All herbal ingredients are tested for high quality and authenticity of species
Only high potency, highly concentrated herbal extracts used
Stringent contamination testing and control procedures
Indications:
Symptomatic relief of hayfever, rhinitis, sinusitis & allergies.
Help maintain healthy immune function. Lowers serum lgE.
Dosage:
Adults and children over 12 years, take 2 to 3 capsules, twice a day after meals.
You may take 3 capsules, three times a day after meals for severe symptoms.
Use only as directed and consult your health care professional if symptoms persist. Free of gluten, preservatives, artificial colours, flavours and sweeteners.
Active Ingredients:
Ingredients per capsule extracts equiv to dry:
Angelica dahurica root 975mg
Paeonia suffruticosa root bark 900mg
Scutellaria baicalensis root 900mg
Paeonia lactiflora root 780mg
Astragalus membranaceus root 700mg
Epimedium sagittatum leaf 700mg
Cullen corylifolium fruit 600mg
Gingko biloba leaf 600mg
Schisandra chinensis fruit 300mg
Rehmannia glutinosa rhizome 300mg
Saposhnikovia divaricata root 300mg
Polygonatum sibiricum rhizome 270mg
Prunus mume fruit flesh 160mg
---
We Also Recommend